Volunteer Futures & BCACG Symposium 2020 (VIRTUAL)
Event Details


JOIN US
Our event is going virtual! Join the BC Association for Charitable Gaming (BCACG) & Volunteer BC from the comfort of your home or office space. The conference will navigate the challenging landscape, volunteers, non-profits and charities are experiencing during the pandemic.
Want more details? Schedule, speaker or sponsor info? Go to our EVENT PAGE FOR MORE DETAILS.
---
REGISTRATION INFO
Registration fee includes: All virtual conference presentations, live events, and networking opportunities.
Everyone is welcome! Sign language interpreters are available making this event accessible for people who are deaf and hard of hearing.
---
Are you a Volunteer BC active member? (member in good standing)
Click on "Login to Purchase Tickets" button above to get special member rate. Members can PAY NOW or be INVOICED.

Not a Volunteer BC member?
Want the special member rate? Save $ and sign-up now.
Click here to purchase your membership.
Click on conference page to purchase your discount ticket.
PAY NOW with credit card.

Not sure if you are a Volunteer BC member or the status of your membership?
Email info@volunteerbc.bc.ca to check your membership status.
Are you a member of BCACG? Want the member rate?
Click here to log-in to your BCACG Membership.
FINAL SCHEDULE IS HERE
November 12 – 9:00AM – 2:30pm PST
November 13 – 9:00AM – 1:30pm PST

All conference presentations, live events, and networking opportunities will be accessible only to registered attendees.

Click here for full schedule.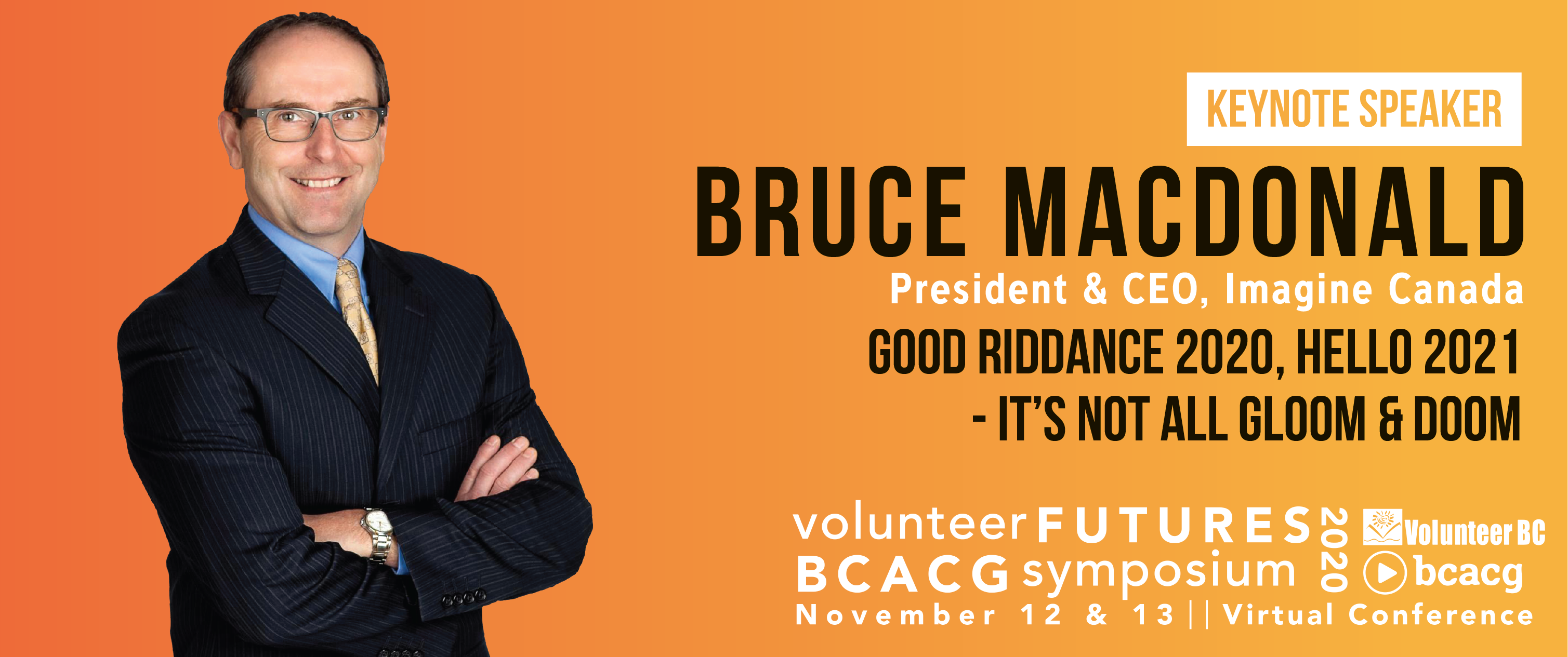 Good Riddance 2020, Hello 2021 – It's Not All Gloom & Doom
What a year! From the global pandemic to the WE charity controversy to a seismic shift related to systemic racism, the charitable sector has been engaged in massive disruption. Bruce's keynote will address some of the main issues from 2020 and look ahead to the possibilities of 2021.